Apply for a scholarship to learn how to code and design: Powered by Ingressive For Good and HNG Internship.
Ingressive For Good  is offering African youths interested in building a skill in design (UI/UX, Graphics),. Front End development  (HTML / CSS, JavaScript, ReactJS), Back End development (PHP, JavaScript, Python) or Mobile software development (Flutter, Java, Kotlin), free access to the HNG Internship's program. Finalists will be added to the Ingressive For Good Alumni community and have the opportunity to access jobs, laptops and more.
Ingressive For Good announced its partnership with HNG Internships to train 50,000 African youths in design and software development, in line with her commitment to increase their earning power.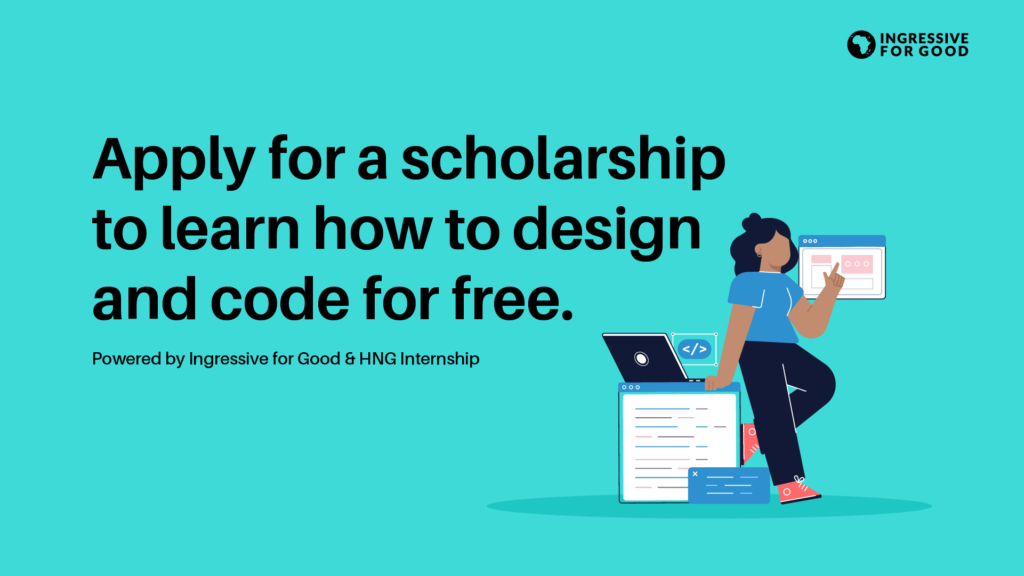 How to Apply:
Register here  – (no exam needed)
How it Works:
ApplyAdvertisement
Chosen candidates will be assigned tasks weekly and introduced to programming frameworks
Participants will be presented in real-world applications to practice
Finalists will qualify to access laptops and jobs in the best tech companies
Program Duration:
This 7 month bootcamp will include a training Phase (2 Months), project Phase (2 Months) and Internship Phase (3 Months).
Registration closes: March 25, 2021
Training Kicks off: March 15, 2021
Share this Opportunity with someone.
About Ingressive for Good
Ingressive For Good (I4G) is a non-profit organization dedicated to creating and increasing the earning power of African youth through tech training, community and the power of work. For more info, partnership, or donation, contact: Blessing Abeng, Director of Communications, Ingressive for Good on communications@ingressive.org Find out more about Ingressive For Good here.
About HNG Internships
The HNG Internship is an ambitious attempt to change the way education is done in Africa. It's the bridge between learning to code, and becoming the best in the world. For more information contact hello@hng.tech