Apply Now, N-power Launchs NASIMS Portal for Batch C Applicants.
The Fed Min of Humanitarian Affairs, Disaster Management and Social Development is giving a Press briefing on the launch of the N-Power Batch C's National Social Investment Management System (NASIMS) 
The N-Power programme provides young Nigerians with job opportunities. It provided opportunities to over 500,000 Nigerians. In view of this, President Buhari approved the extension of the programme to 1million new beneficiaries; 500k per stream.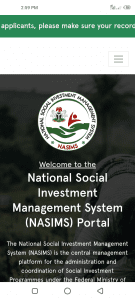 The N-Power programme will now be administered through the NASIMS which cuts across the whole value change of other programmes under the Ministry. The programme is now positioned to be more strategic through the NASIMS. Beneficiaries will now be able to get more from programme, and experience a seamless verification process as well as an efficient transition and exit management plan through the NASIMS.